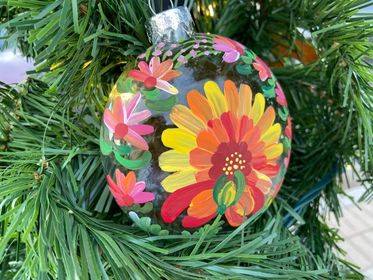 Christmas ornament workshop in Petrykivka style
As the Holiday season, 2020 is about to begin we invite you to the Christmas ornaments painting workshop in Petrykivka style, which is a part of the intangible cultural heritage of Ukraine.
We will learn a unique technic of Ukrainian folk art by making specific strokes and lines and will hand-paint flowers on ball ornaments.
You will create a one of a kind Christmas ornament for a gift or decoration for your Christmas tree. At this time of the special year, we are practicing social distancing and must wear a face cover. We will keep the class small. The space is limited.
Please reserve your ticket in advance to secure your place. The cost is $40 per person for 2 hr of creative fun. All materials are included.
Online ticket sales for this event are closed.