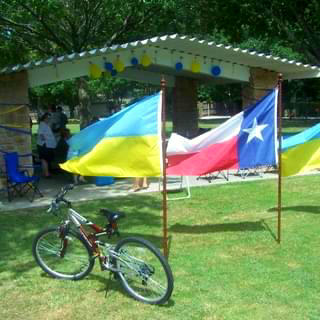 Ukrainian Fall picnic 2023
In honor of the National Day of the Defenders and Defendresses of Ukraine, the annual  Ukrainian Cossack Day, the anniversary of the creation of the Ukrainian Insurgent Army (UPA), and the Feast of the Intercession (Pokrova) let's get together for a family-friendly picnic. 
When: Sunday, October 15, 2023, starting at 1 PM
Where: Rotary Pavilion
            3010 Parr Ln, Grapevine, TX 76051
Ukrainian clothing is encouraged for everyone. We will have music, games, and a great time together. It's a potluck, bring some shareable meals and/or drinks and utensils. The pavilion is spacious. There will be room for everyone even if it rains. Children may have fun at the large playground or play sports on the field nearby. 
SIGN UP FOR HELP AND SHARED DISH.