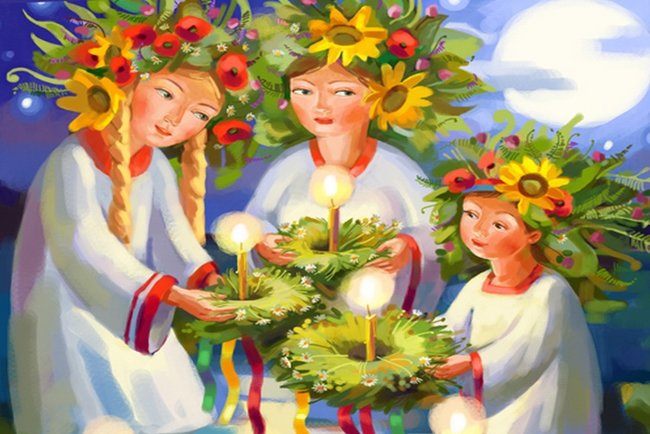 Ivana Kupala Happy Hour / Зустріч на Івана Купала
Join us for an Ivana-Kupala-themed happy hour/dinner/social gathering on the lake! Ivana-Kupala day is a traditional Slavic holiday celebrated in Ukraine to commemorate midsummer. It's a centuries-long tradition, that has been preserved from antiquity to this day. Many young girls enjoy guessing their romantic fate by sending vinok down the river, which young men try to catch.
We invite you to join us on one of the longest days in summer to spend an evening on Lewisville Lake, in a warm and welcoming Ukrainian circle. We would love to see you wear traditional Ukrainian vyshyvankas and embroidered clothing. Floral headwear for girls will also help make the evening special. Feel free to grab a swimsuit and cool off in the pool located at the facility where we'll have our meet-up. If you want to send "vinok" down the stream in lovely Lewisville Lake – please bring a natural (biodegradable) wreath with you.

Where: Sneaky Pete's Texas
2 Eagle Point Rd, Lewisville, TX 75077
When: Friday, June 23, 6 PM
Запрошуємо Вас провести з нами вечір на озері присвячений Івана-Купала! День Івана-Купала – традиційне слов'янське свято, яке відзначається в Україні на згадку про літнє сонцестояння. Це багатовікова традиція, яка збереглася з античності до наших днів. Багато молодих дівчат із задоволенням ворожать про їхню романтичну долю, пускаючи по воді вінок, який юнаки намагаються зловити.
Приєднуйтеся до нас у один із найдовших літніх днів, щоб провести вечір на озері Lewisville у теплій та привітній українській громаді. Ми будемо раді бачити вас у традиційному українському вишитому одязі. Віночки на дівчатах також допоможуть зробити вечір особливим. Прихопіть з собою купальник якщо бажаєте окунутися у басейн, що знаходиться на території закладу. Якщо ви хочете спустити «вінок» по воді озера Lewisville – принесіть із собою природний (наприклад, трав'яний) вінок.