Stand With Ukraine Benefit
Help us support the Ukrainian people at this time of war.
In cooperation with St. Rita Catholic School of Dallas, Veselka Folk Singers of Dallas, and Zorya Ukrainian Dancers of Dallas Ukrainian Cultural Club of Dallas presents a benefit event "Stand with Ukraine".
Join us for a night of Ukrainian cultural dance, music, and classical performances, a beautiful art auction, and Ukrainian traditional food. Many talented artists have donated their works of art to be auctioned off for the benefit of Ukraine. The event will begin with the viewing of the art and craft bazaar at 2 PM. The concert will start at 5 PM with the Veselka singing Ukrainian and American anthems. The program will include Mark Krasij Bandura playing, Ludmila Kasianenko National Artis of Ukraine, Marina Dichenko – violin player, Marec Eneti – violin player, Martina Fundaro – cello, Sonyashnyk Ukrainian Dancers from Austin TX, and Zorya Ukrainian Dancers of Dallas. The highlight of the evening – ALYOSHA (Olena Topolia) – Ukrainian singer-songwriter, winner of many prestigious awards, including M1 Music Awards, "Golden Firebird", YUNA, "Golden Gramophone" Ukraine, " Song of the Year, "Viva! etc. Alyosha is among the TOP 5 most touring singers in the country. In 2010, with the song "Sweet people", she represented Ukraine at the Eurovision Song Contest in Oslo and was among the top ten performers on the continent.
Tickets include general admission, buffet-style dinner, and drinks.
Location: St. Rita Catholic School of Dallas, SWEENEY HALL.
12525 Inwood Rd, Dallas, TX 75244
Tickets: Adult – $50
Child 3-12 y.o. – $25
Child 0-2 y.o. – free.
Tickets are non-refundable. 100% of all proceeds go to Ukraine.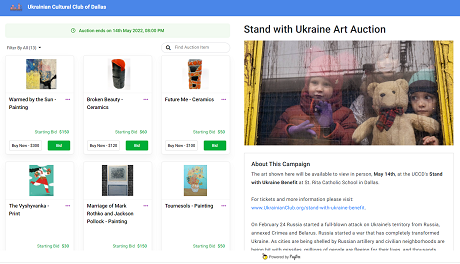 Stand with Ukraine Art Auction
The art shown here will be available to view in person, on May 14th, at the UCCD's Stand with Ukraine Benefit at St. Rita Catholic School in Dallas.
Multiple Ukrainian and American artists have donated their art to be auctioned for Ukraine relief efforts.
Online ticket sales for this event are closed.